Ever thought of going for a glass of wine with your cat? A cat begging his human mommy for "wine" has gone viral after she shared a video of him impatiently waiting for the drink on TikTok, leaving the public in stitches.
The video, which was shared about two weeks ago by the cat's owner, who goes by the username I_am_whiskey, shows her cat, who's called Whiskey, meowing and whining, pressing her to hurry up and give him the drink.
Further comments explained that the drink she gave her cat, which she called cat wine, is actually a sort of catnip tea, and does not contain any alcohol. The mellowing effect it has on a cat is caused by catnip.
While wine made for human consumption is toxic for cats and pets in general and you should never give it to your pet, catnip wine is fine for cats in small quantities.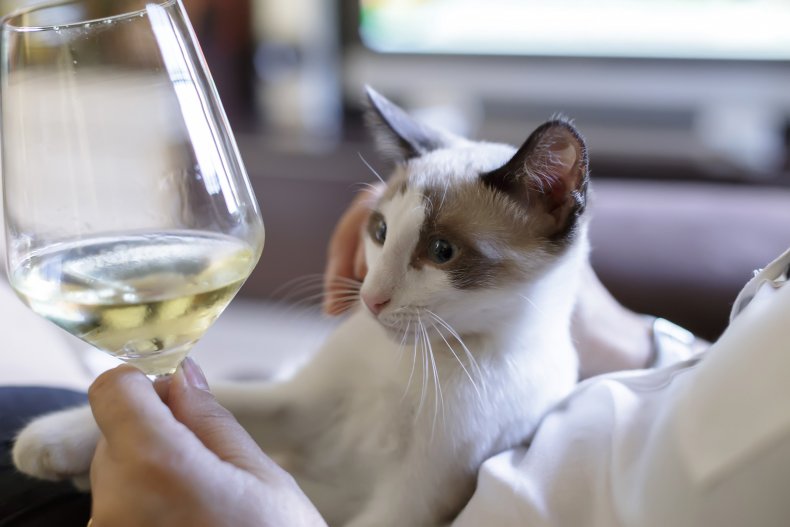 Cat wine is usually made out of water, dry catnip, food coloring (or beet juice) and a few drops of salmon oil. To make cat wine, mix water and catnip in a pan over low heat and simmer for 15 minutes.
Once it's cooled down use a sieve to separate the catnip from the water and throw the catnip away. Finally add the food coloring (or beet juice) and the salmon oil and stir. Then cool in the fridge for a couple of hours and it's done.
According to PET MDa pet blog written and reviewed by veterinarians, catnip wine that contains beet may not be the best choice for your cat because of it's sugar content.
Pet owners are advised to use the drink in small quantities as an occasional treat and veterinarians do not recommend giving it to your cat all the time.
Most TikTok users weren't aware of the fact that cat wine even existed. Flower ~ cat commented: "excuse me cat wine !? is that even a real thing, if it is what is it made of?" Cams_alarcon said: "why I just realized I need vine nights with my cat." Dada90090 added: "Wait, there is a cat wine (you learn something everyday)."
Some users asked the original poster what the drink was and how she made it, and even demanded a tutorial. Other people joked that Whiskey had a wine addiction. SamanthaSmith commented: "What in the rich spiked kitty is going on… does ur cat have a drinking problem??" Bunny said: "Whiskey has an alcohol problem lol." And Klara Gadd added: "I think your cat might be a catwineoholic."
Brooke Romero439 said: "your cat is my spirit animal." Beetar commented: "I don't have a cat but this content is extremely interesting for me." Shaqqer asked: "Will the catto get drunkko?"
Other jokes included: "Is she old enough for alcohol?" from tordssmellyasssock and "If my future don't look like this I don't want it" from Potatoegainz.
Another user, Christian De Angelis asked: "Can we see him drinking it and after drinking it rather than just dipping his paw in it?"