Westfield shopping centers have come back to life in the post COVID-19 world as consumers are seemingly flocking back to spend saved up cash on fashion, jewellery, technology and appliances and the ubiquitous leisure gear.
Scentre, which owns the Westfield malls across Australia and New Zealand, said in the March quarter update that visitation is 12 per cent higher than 2021 or 16 per cent higher when excluding CBD centres.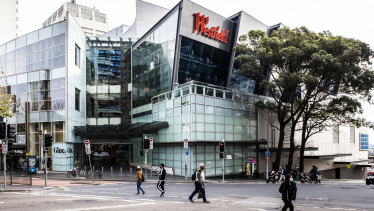 The rise in sales growth is in defiance of the general state of the economy where the latest ANZ-Roy Morgan consumer confidence index fell by 0.2 per cent to a 20-month low of 90.5 points, based on fears of rising cost of living pressures.
The retiring chief executive Peter Allen said there is concrete evidence of week-on-week improvement across the suburban and city centres. As a result of the improvements and subject to no material change in conditions, Allen expects the group to distribute at least 15¢ per security for 2022, being at least 5.3 per cent in growth.
"Demand from existing and new businesses who want to expand their physical store network continues," Allen said.
Breaking down the numbers supplied by the country's biggest mall owner, overall sales growth from January to March jumped 7.1 per cent, while in the month of March alone, the sales were up 11.2 per cent. The all-encompassing retail services category, including coffee shops to banking and chemists and health centres, saw sales growth jump 18.4 per cent.
Buyers continued to fall out of love with department stores as sales growth dropped by 4.6 per cent over the quarter and with the bad weather in January alone, sales growth plummeted 20.3 per cent.
However, the savvy consumer favored the discount department stores where the sales growth was up 16.6 per cent for the quarter.
Allen said portfolio occupancy remains strong at 98.7 per cent at the end of March and around 80 per cent of the specialty leases are inflation linked with average annual rent escalations of CPI + 2 per cent.
The remaining 20 per cent of specialty leases have fixed annual rent escalations with an average escalation of 4 per cent and specialty rent represents more than 90 per cent of net operating income.
"Gross rent collection during the four-month period to 30 April 2022 was $800 million," Allen said. During the three months to 31 March 2022, the Group completed 536 lease deals, including 237 new merchants, welcoming 50 new brands to the portfolio."
Scentre Group finance director and CEO-Elect Elliott Rusanow said, financially the group was solid having restructured its interest rate hedging profile to increase hedging in 2023 and 2024. Property analysts had expressed concerns with the group's debt level as interest rates start to rise.
"Interest rate hedging at January 2023 has been increased from 50 per cent to around 65 per cent, with a weighted average rate of 1.87 per cent," Rusanow said.