Whether it's swallowing a tennis ball, munching on pebbles until their stomach "rattles," or actually eating your homework, dogs aren't known for having discerning tastes (well, except for one classy canine, who only eats their food with parmesan cheese) .
However, one dog's snack time resulted in a trip to the vets, after the hungry hound got his jaw stuck inside of the bone he was nibbling on.
Tiktoker tangojuliet14 posted a video of her dog Finn in the car as they were preparing to leave for the animal hospital. In the short clip, the husky mix can be seen hilariously showcasing her new accessory.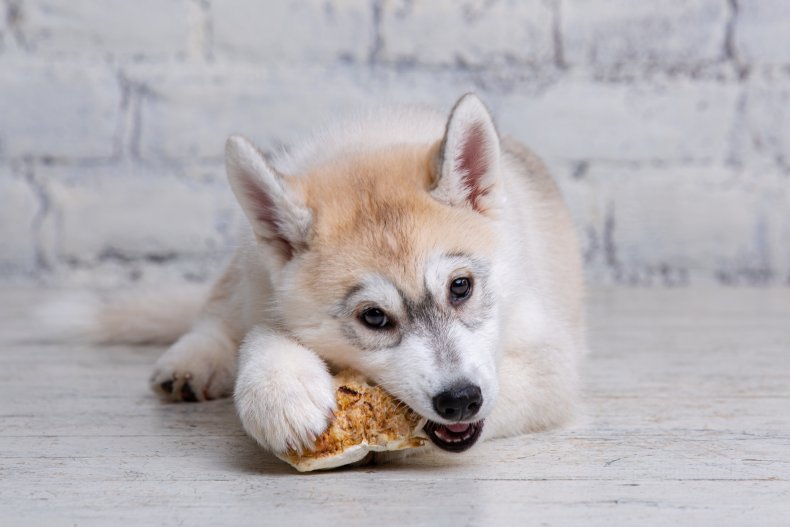 She said: "Are we going to see Dad? Did somebody get their bone stuck to their jaw?
"Good thing Dad's an emergency vet."
TikTok users couldn't get enough of the pup's adorable fail, with the post receiving 7.2 million likes and over 19,000 comments since it was first posted on 30 March.
K's daddy said: "poor boy." OllieWinning commented: "Not a thought behind those eyes."
Nowords302030 wrote: "The way he just accepts it in the end like, ok well this is my mouth now."
Fortunately, tangojuliet14's partner is an emergency vet, who was able to remove the bone quickly and easily.
In the comments, the Tiktoker explained how Finn got himself into this situation.
She wrote: "1. Idiot mom (me) bought the bone.
"2. Dad reviews all toys/treats b4 purchase now.
"3. They were able to just pull it off, no saw, I'm just a wimp.
"He was nomming his bone in the yard against the ground (that's dirt coming out the end) and pushed it onto his jaw.
"It was peanut butter filled, the holes aren't usually THAT big. Its no problem for our pitty but his little snoot fit right in."
According to PetPlan Insurance, the average cost of an urgent trip to the vet in the US can be anywhere from $800 to $1,500 for a cat or dog.
However, the actual amount of an emergency appointment depends on factors such as the time of day, severity, location and animal hospital itself.
The most common emergencies include vomiting and diarrhea, being hit by a car and poisoning, with only 39 percent of Americans having enough savings to cover an emergency trip should it occur.
In a follow-up video, Finn can be seen sweetly tilting his head and feigning innocence, while his mom jokingly "berates" him for the trip.
She said: "Do we get to sit in traffic for 40 minutes now on the way home?
"Was it worth it? It was worth it."
Many commenters suggested the bone was actually a trick so Finn could go see his dad at work.
Emmabrown9355 said: "Awww bless him! Dad to the rescue." Lee commented: "Maybe he was tired of dad leaving him so, take actions into him own hands."
While Courtney "Nini" Kreis joked: "He was like "One way or another, I seeing dad, Woman!"
Others warned the poster to avoid bones such as this in the future, as dogs getting their jaws stuck is a surprisingly common occurrence.
PixelThomas said: "my dog ​​had the same. pure panic."
Astrid commented: "That happened to my old dog aswell. We took her to the vet and when they saw her that all began laughing, tbh it was pretty funny."
Newsweek has reached out to tangojuliet14 for comment.