For Antonio Conte, the delight lays in the dominance. It was physical, his Tottenham players running all over their Arsenal rivals; battering them, pounding them into submission. It was psychological, the visitors seemed to crumble in the face of a ferociously intense atmosphere. And it was tactical, Conte's approach looking quick and incisive; easy on the eye.
Spurs knew that they had to win to keep alive their hopes of pipping Arsenal to fourth place. They did that and more. This was a statement performance and one to seriously test their nearest and not so dearest. Arsenal do retain control of their destiny, with a regards to a Champions League finish, but Mikel Arteta has regrouping work to do before the pivotal trip to Newcastle next Monday.
This was an occasion when everything went wrong for him. Rob Holding's sending-off for a foolish second booking on 33 minutes was the moment when it unraveled for Arsenal but they were already behind to Harry Kane's first goal, scored from the penalty spot after Cédric Soares had fouled Son Heung-min.
Arsenal could not live with Son and, certainly, Holding could not – both of his cards came for fouls on him. Kane would score again and it was Son, inevitably, who got the final goal – his 21st of the Premier League season to further his pursuit of the Golden Boot. Mohamed Salah of Liverpool currently leads the way with 22.
Son was withdrawn to a tremendous ovation in the 72nd minute as Conte looked ahead of Burnley's visit on Sunday but the South Korean was far from happy. He had wanted more and he sensed that it was there for the taking.
Arteta would lose his other starting centre-back, Gabriel, to injury late on and, with Ben White an unused substitute as he works his way back to fitness, he finished with Takehiro Tomiyasu and Granit Xhaka in the middle of his back line. With Kieran Tierney already out, a selection crisis looms in defense
It had felt at the outset as if Cédric versus Son on the Spurs left was a mismatch waiting to happen. But it was Holding versus Son that led to the most grievous damage for Arsenal.
The pair had grappled on the floor in the early going – Holding seemingly wanting to leave a marker – and, when Son turned away from him on 26 minutes, beating him all ends up, Holding put his hands on him again. He had his first caution. Time to tread carefully? No. When Holding watched Son cut across him in pursuit of a high Eric Dier ball, I checked him with no little cynicism. What was he thinking about? Out came the second yellow card.
Arteta was furious with the referee, Paul Tierney, as he had been for the penalty. Perhaps it was the frustration of seeing his team overrun, of them being beaten in an increasing number of duels as the first half wore on. Arteta denied it but it was possible to wonder whether the occasion had been too hot for his team.
With fans inside this stadium for the first time in a derby, it was Arsenal who blinked first, Cédric barging Son at the far post as the Spurs forward chased a Dejan Kulusevski cross. Kane is this fixture's all-time leading scorer. When I have addressed the penalty, there was little doubt as to the outcome.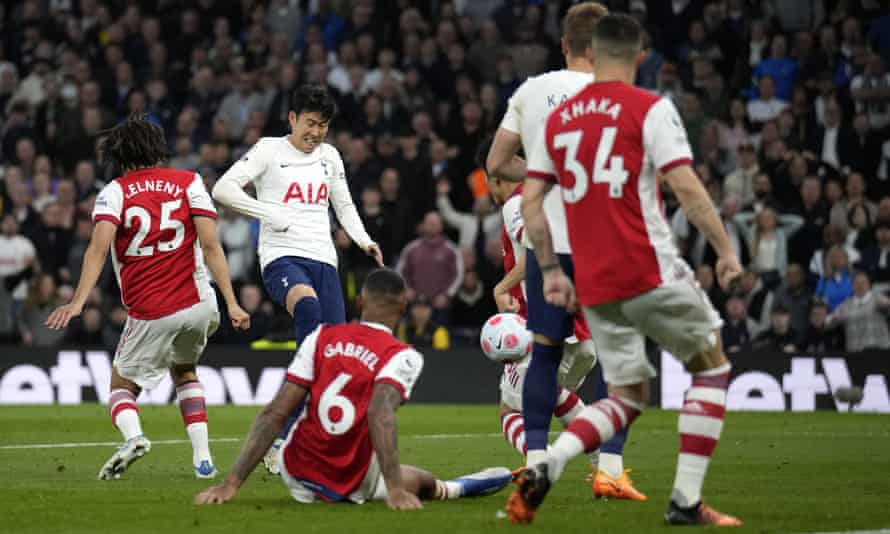 Spurs scented blood. Roared on by the crowd, they pressed high, carrying the fight. Moments before Holding's dismissal, Kane had seen a shot blocked by Tomiyasu. He did not have to wait long for his second of him.
It was Rodrigo Bentancur who flicked on a Son corner and Kane was all alone at the far post to stoop low and head home. The half-time damage could have been heavier but, after Tomiyasu had again blocked from Kane, Ryan Sessegnon stood up a lovely cross and Emerson Royal lifted high.
Spurs' third was a killer on every level for Arsenal. There was the timing – straight after half-time. But there was the sight yet again of a Spurs player bullying his opponent. It was Kane this time, backing into Gabriel, trying to roll him and the Arsenal player struggling to hold his ground. With both men on the ground, the ball broke to Son, who lifted an assured finish past Aaron Ramsdale.
Bukayo Saka was denied by Ben Davies but there were oles from the home support; how they enjoyed their team putting a boot on Arsenal's throat. Clemency was not apart of the mood.
Kane worked Ramsdale from distance and Son lifted over from a Sessegnon cross when he should have done better. Arsenal would go close through Martin Ødegaard but, for them, there was no consolation. Spurs had mastered the occasion in every way.