Members of a popular internet forum were left stunned after one man revealed why his fiancée was left feeling "humiliated and jealous" after a gathering with friends.
In a viral Reddit post published on r/AmITheA**hole, Redditor u/RoundReplacement7840 compared his fiancée's "unique" beauty to his "conventionally attractive" friend and asked the forum's 4 million members if showering his friend with compliments about her appearance crossed any metaphoric lines.
Titled, "[Am I the a**hole] for complimenting a friend of mine making my fiancée jealous?" the post has received more than 6,600 votes and 3,600 comments in the last day.
Beginning with the explanation that his 27-year-old fiancée (called "Jane") is a lawyer, the original poster described her fashion sense as "casual chic," and asserted that his friend (called "Sara"), who works as a bridal consultant, dresses in a more "glamorous" manner.
Continuing to explain that he and his fiancée have been engaged for the last year, the original poster assured that he adores her, and called her "the nicest and most supportive woman" he's ever met.
The original poster also said that his fiancée has recently begun calling him out every time he goes out of his way to pay respect to Sara's immaculate looks.
"Sara is the kind of woman who will make everyone turn their heads and just stare at her whenever she enters a room. She's always been like that," he wrote. "Jane did n't seem to mind at first but later on she started getting bothered whenever I 'over complimented' Sara but she still did n't make a big deal out of it."
However, at a recent engagement party for a separate friend, the original poster said things changed, and his consistent compliments for Sara became a big deal to both himself, and his fiancée.
"As always, once Sara walked in everyone turned to look at her," he wrote. "It was one of the best outfits she'd wear and one of the best hairstyles she'd have."
"I went to greet her and I couldn't stop complimenting her all night long because she truly outdid herself," he wrote. "I noticed Jane sitting alone later and I went to ask her what's wrong."
"She replied that I'm ridiculous for asking as if I don't know already. Then my friend's new fiancée and my friend pulled me to the side and told me that they had spotted my fiancée crying in the hallway," the original poster continued. "She told them that she feels like she's never going to be as good and as pretty as Sara in my eyes."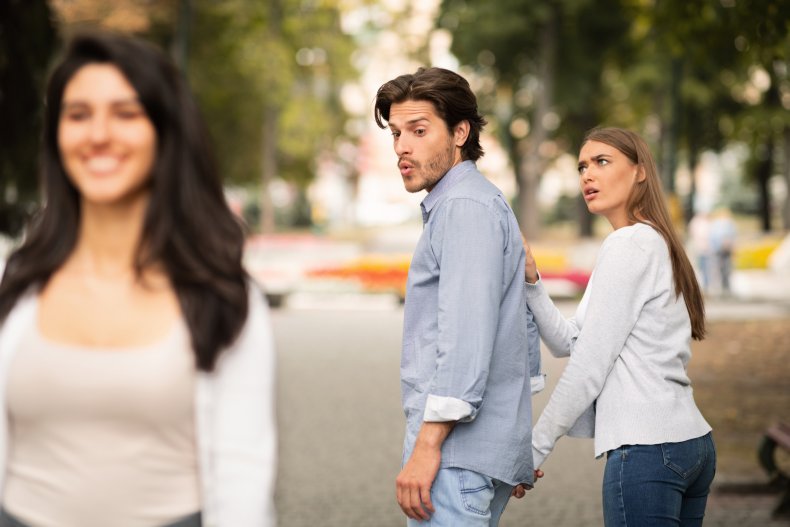 In 2017, love and relationship outlet Your Tango addressed the issue of a male partner thinking a woman other than his own partner is attractive.
Throughout the article, Your Tango writer Michelle Zunter assured that a man thinking a woman outside of his relationship is attractive is natural.
"Noticing that other people are attractive is not only normal, it's instinctual," Zunter wrote.
What Zunter asserted is not normal or acceptable, however, is inappropriately acting on those feelings of attraction.
"There's a big difference between observing people and acting out of line," Zunter wrote.
While noticing beauty and simple compliments are both part of normal, acceptable interactions, gushing over another woman's appearance in front of a romantic partner is less acceptable and likely to cause problems within a relationship.
Throughout the viral post's comment section, Redditors relayed this message to the original poster and questioned his motives for repeatedly complimenting his friend's outfit, hair and general appearance, despite previous conversations with his fiancée about that exact behavior.
Responding to the claim that he "couldn't stop" complimenting Sara's appearance, Redditor u/Sputtrosa assured the original poster he was wrong for humiliating his fiancée in such a blatant manner.
"What the hell?" they exclaimed, receiving nearly 23,000 votes. "You 'couldn't stop'? Yeah, [you're the a**hole]."
In a separate comment, which has received more than 12,500 votes, Redditor u/Left-Car6520 echoed that sentiment.
"My dude. I can hear you salivating over Sara from here," they wrote. "Did you ever consider maybe don't do that to your fiancée?"
"Sara's beautiful, stunning, glamorous, we get it," they continued. "But you can just close your mouth about it…this is not hard to figure out."
"So basically you are attracted to Sara but have decided Jane is a better fit for you. Fine," Redditor u/Pleasant_Birthday_77 chimed in, receiving nearly 7,000 votes.
"There's no need to make it so obvious and insult and humiliate Jane," they added. "Control yourself, you're a grown man."
Newsweek reached out to u/RoundReplacement7840 for comment.