Blumhouse and Peacock shared a peek at their latest horror film on Thursday, and the Internet is already in love with the movie, They/Them, due to its title.
The upcoming film, with its title pronounced "They-Slash-Them," takes place at an LGBTQ conversion therapy camp. The film follows a group of LGBTQ teens attending the camp led by Owen Whistler, played by Kevin Bacon, his wife Cora, played by Carrie Preston, and another administrator, Molly, played by Anna Chlumsky.
"As the camp's methods become increasingly more psychologically unsettling, the campers must work together to protect themselves. When an unidentified ax murderer starts claiming victims, things get even more dangerous," the official summary reads.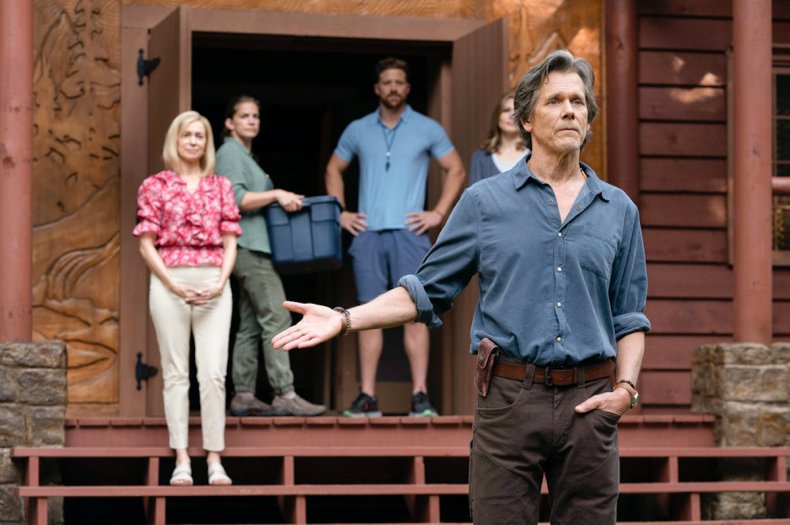 Though no video has yet been released from the film, only stills, summary and the title, They/Them is already getting buzz online, mainly due to the clever pun in the title.
"the title being "they slash them" is genius i tell you. GENIUS," @_CRIMSONMASKtweeted.
"The title??&:&:&:&:@:," @pushthatbeat added. "Its the nicki level word play for me… 'they slash them' yup."
"No way they named a LGBTQ+ SLASHER movie They SLASH Them," @SnapsEnt wrote.
"'They Slash Them' I just know the creator was giggling when making this script," @ADodgerKid wrote.
"If a character in this new slasher movie doesn't slowly point at the killer and stutter 'they, slash …. them!' then what's even the point," extra magazine culture editor Mel Woods wrote.
Despite the pun, They/Them was not the original title for the movie. Earlier press from April 2021 announced the film under a different title: WhistlerCamp, named for Bacon's character. The film is the directorial debut of John Logan, who also wrote the script and created the popular Showtime series Penny Dreadful.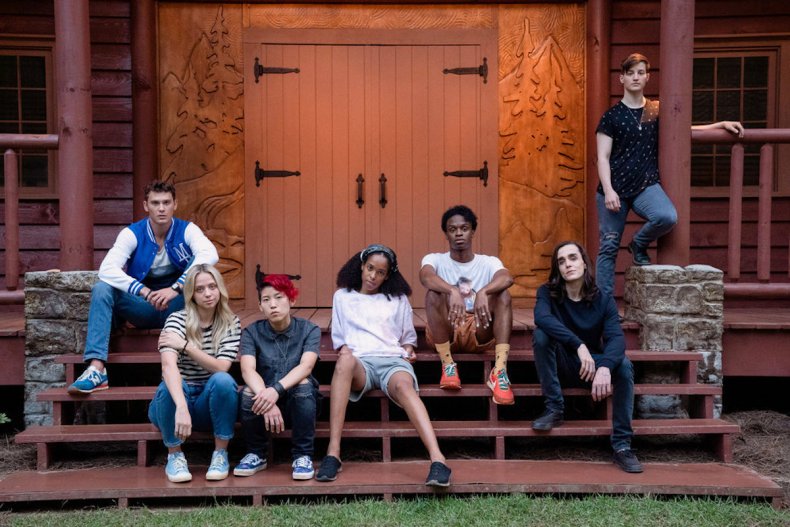 They/Them isn't the only Blumhouse film that involves gay conversion therapy. The company also produced the Netflix documentary Pray away, which looks at the stories behind several people who went through conversion therapy and why they now reject the practice.
Though a good topic for a horror film, the practice is very real and very harmful, banned in 21 states and 13 countries—including France, as of this January.
Conversion therapy repeatedly confronts people with their own "deviancy," according to the Independent Forensic Expert Group (IFEG), and works to convince the patient to reject their "unwanted" thoughts, often putting the "blame" for being LGBTQ on sexual abuse or some other form of trauma.
Conversion therapy has been repeatedly discredited and the International Rehabilitation Council for Torture Victims (IRCT) considers it torture, as those who have gone through it experience Post-Traumatic Stress Disorder, traumatic nightmares and a sharp increase of suicidal tendencies—especially in children, according to the IRCT.
LGBTQ youth who have been through conversion therapy are twice as likely to have attempted suicide afterwards, according to a Trevor Project study, and are over 2.5 times as likely to have made multiple suicide attempts in the past year.
Newsweek reached out to Blumhouse Productions for comment.
They/Them is available on Peacock starting on August 5.