Curious food-related stories always spark broad discussions on social media platforms, whether it's a viral mandarin-cutting hack or a farmer revealing the surprising reason why cows are regularly fed candy.
And now, a picture of a bizarre-looking version of a common fast food item has gotten everyone talking on Reddit.
A recent post went viral after a user u/ImMelissaning shared a photo of a pizza that they had ordered at a restaurant in Altoona, Pennsylvania.
But the catch is that the pizza raised more than a few virtual eyebrows as it didn't resemble any sort of pizza that most of us would have in mind.
The user captioned the photo "This pizza we ordered at a restaurant in Altoona, PA," and shared it on the r/sh*ttyfoodp*rn subreddit less just yesterday, Wednesday. Since then, the post has amassed a total of 17,000 upvotes and 1,300 comments.
The photo depicts six slices of Altoona-style pizza, a type of pizza that usually features a thick dough base, marinara sauce, with toppings that often include salami and bell peppers, all covered with American cheese and cut into big square slices.
Altoona-style pizza is one of Pennsylvania's most curious delicacies.
According to a newspaper clipping taken from a copy of the Pittsburgh Post-Gazette dated back to October 13, 1996, the Altoona Hotel was apparently the first location in Pennsylvania to serve this dish over 25 years ago.
According to a comment left by the original poster (OP) on Reddit, they were on a car drive from Pittsburgh to Philadelphia when they encountered this pizza.
"Usually when we go on roadtrips, we try to order whatever the restaurant's specialty is to experience new food," they shared. "This one happened to be their specialty and we were excited for it when the waiter called it the Altoona-style pizza."
"We assumed it'd be good and was popular for a reason since it was named after the city, kinda like how Detroit-style pizza and St. Louis-style pizza are well-known," OP added. "Little did we know it was gonna be this atrocity."
Many users rushed to the comment section to express their opinion of the strange looking dish.
"This is criminal," one user wrote,
"Is [the] chef to toddler?" asked another commenter.
A Pennsylvania dweller even took it upon themselves to accept responsibility for the pizza's existence. "As a representative of the PA gang, [I'd] like to apologize for whatever the f*ck this is and assure you that Altoona does not represent the rest of the state," they wrote.
Among a sea of ​​disapproving comments, only a handful of commenters seemed to take it upon themselves to defend Altoona-style pizza. "[Not gonna lie]I'd eat this and enjoy it," wrote one user.
Another commenter shared that the Altoona Hotel, the location where that particular type of pizza originated, had burned down over nine years ago. One opportunistic Reddit user took this as a chance to poke fun: "Yet, somehow, the fire failed to kill this monstrosity."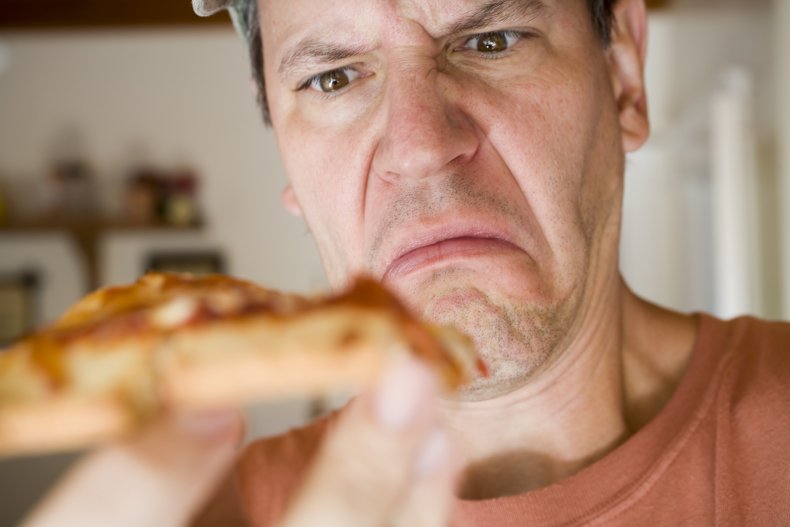 According to a 2013 study conducted by the University of Alabama in Birmingham, "food concocting," or the act of making strange food mixtures, is well-documented in famine literature and can on occasion be seen in patients suffering from eating disorders.
According to the research, creating odd food combinations can be primarily caused by cravings, while the emotions that patients experience when "concocting" these meals can be similar to the high-arousal symptoms experienced by drug users.
Unsurprisingly, strange foods going viral on the internet are nothing new.
Newsweek previously wrote about a TikTok user who took it upon themselves to recreate dishes from a 1953 recipe book. Among the meals she prepared was the "Sunshine salad," which featured an odd combination of ingredients such as lemon-flavored Jell-O, syrup from canned pineapple, salt, vinegar, grated carrots, chopped pecans, lettuce and mayonnaise.
Newsweek has reached out to u/ImMelissaning for comment.