The Samsung Galaxy S22 range of smartphones depreciated almost three times more than the iPhone 13 lineup in the first two months after launch, according to research by SellCell.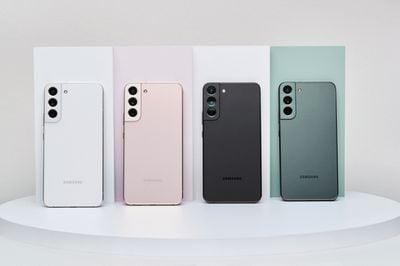 Samsung announced the Galaxy S22 range in February this year, almost five months after the launch of Apple's ‌iPhone 13‌ lineup. Just two months after launch, the S22 lineup as a whole lost 46.8 percent of its value. The Google Pixel 6 did not fare much better, losing 41.5 percent of its value two months after launch. In both cases, this is a considerable depreciation compared to the ‌iPhone 13‌ models, which lost just 16.8 percent of their value two months after launch. The Galaxy S22 is also the only smartphone lineup to continually lose value, experiencing no value recovery after launch, unlike the iPhone and the Pixel.
The 128GB Samsung Galaxy S22+ 5G was the poorest performing model in terms of value retention, losing 53.8 percent of its value by month two, and the 128GB Pixel 6 Pro lost 44.2 percent of its value. On the other hand, the worst performing ‌iPhone‌ model was the 128GB ‌iPhone 13‌ mini, which lost 29.2 percent of its value by month two.
The best performing Samsung model was the 128GB Samsung Galaxy S22 Ultra 5G, with a loss of 41.7 percent two months after launch, and this was again beaten by the 128GB Pixel 6 with a loss of 33.1 percent. The best performing ‌iPhone‌ model, the 128GB iPhone 13 Pro Max, lost a diminutive 3.8 percent of its value in that timeframe.
SellCell's findings demonstrate that Android handsets still have some way to go in terms of long-term value retention compared to the ‌iPhone‌, with similar studies published on an annual basis. See the full report for more detailed information.
Related Stories
iPhone 13 Holding Value Much Better Than Any Other iPhone After Launch
Two months after its launch, the iPhone 13 lineup is seeing unprecedented low levels of depreciation, according to research by SellCell. SellCell's research, based on data from 45 buyback vendors, shows that the iPhone 13 has the best value retention of any iPhone in the first two months after its launch. Overall, the iPhone 13 models have only depreciated by 25.5 percent on average. By…
iPhone 13 Depreciates Half as Much as Flagship Android Rival
The iPhone 13 lineup depreciates in value at almost half the rate of the Google Pixel 6, according to research by SellCell. The Pixel 6, Google's latest flagship smartphone, launched just two months after Apple's iPhone 13 lineup. Despite being touted as a leading Android competitor to the iPhone, the Pixel 6 suffers from considerably worse depreciation. In the first month after launch,…
iPhone 12 Depreciates Less Than iPhone 11, Study Finds
iPhone 12 models have held their value better than iPhone 11 models did after the same amount of time, according to a new report by SellCell. During the six months following launch, the iPhone 12 models lost on average 34.5 percent of their value, while during the same period after the launch of the iPhone 11 lineup, iPhone 11 models lost 43.8 percent of their value. This means that iPhone…
Apple Lowers Value of Android Smartphones for iPhone Trade-In
Apple today reduced the estimated maximum dollar amounts that customers can receive when trading in several different Android smartphones for an iPhone. Apple also adjusted trade-in values ​​for certain iPad and Mac models. On its website, Apple displays the highest possible amount a customer can get when trading in a specific device for an Apple product, such as an iPhone, iPad, Mac, or Apple …
Four Takeaways From Samsung's Galaxy S22 Event for Apple Users
Samsung today announced its new lineup of Galaxy S22 smartphones, Galaxy Tab S8 tablets, and more. We've put together a list of key takeaways for Apple users looking for a high-level overview of the competition's latest offerings. The Galaxy S22 and S22+ have virtually the same design as the previous S21 models. The 6.1-inch and 6.6-inch devices offer iterative updates, including improved…
iPhone 13 is Significantly Faster Than Samsung's New Galaxy S22 in Benchmarks
Samsung's new Galaxy S22 models are some of the fastest Android smartphones ever, but Apple still has the world's fastest mobile processor by a considerable margin. In a Geekbench 5 benchmark test conducted by PCMag, the Galaxy S22 Ultra with Qualcomm's Snapdragon 8 Gen 1 processor achieved a multi-core score of 3,433, compared to 4,647 for the iPhone 13 Pro Max with Apple's A15 Bionic chip. …
Samsung's Galaxy Tab S8 Ultra vs. Apple's iPad Pro
Samsung in February unveiled the Galaxy Tab S8 Ultra, a high-end tablet that's meant to outshine the iPad Pro with its 14.6-inch OLED display. In our latest YouTube video, we went hands-on with Samsung's Galaxy Tab S8 Ultra to see if the company has indeed created something that's better than the 12.9-inch iPad Pro. Subscribe to the MacRumors YouTube channel for more videos. Priced starting…
Popular Stories
Apple's Director of Machine Learning Resigns Due to Return to Office Work
Apple's director of machine learning, Ian Goodfellow, has resigned from his role a little over four years after he joined the company after previously being one of Google's top AI employees, according to The Verge's Zoë Schiffer. Goodfellow reportedly broke the news to staff in an email, saying his resignation is in part due to Apple's plan to return to in-person work, which required …
Apple Releases New 4E71 Firmware for AirPods, AirPods Max and AirPods Pro
Apple today released a new 4E71 firmware update for the AirPods 2, AirPods Max, and AirPods Pro, up from the 4C165 firmware that was released back in December. Apple has also released new 4E71 firmware for the AirPods 3, up from the 4C170 firmware that was released in January. Apple does not offer information on what's included in refreshed firmware updates for the AirPods‌, so we don't…
Former Apple Design Chief Jony Ive Shares His 12 Favorite Tools of the Trade
Former Apple design chief Jony Ive, who still partners with Apple on products, has revealed his 12 must-have design tools for making, marking, measuring, and carrying with him every day. The list appears in a special issue of Financial Times '"How to Spend It" magazine (paywalled), of which Ive is guest editor, and the designer uses the opportunity to put the focus on his obsession with …
Apple CarPlay Workaround for Tesla Vehicles Now Available to Download
Apple CarPlay is now available for Tesla vehicles – but only for owners willing to resort to a workaround that uses a connected Raspberry Pi. In the face of Tesla's apparent indifference to repeated calls to bring CarPlay to its automobiles, Polish developer Michał Gapiński demoed his success in bringing Apple's in-car system to his Tesla Model 3 earlier this year. As noted by Tesla North, …
Apple Discontinues iPod Touch
Apple today that announced it is officially discontinuing the iPod touch, an out of date accessory that has been replaced by other devices like the iPhone and the iPad. Apple says that it is eliminating the iPod touch because its capabilities are available across Apple's product lineup. The iPod touch is the last remaining device in the iPod lineup, and it has not been updated since May…
Apple Launches Limited-Time Bonus Trade-In Credit for iPhone, iPad, Mac, and Apple Watch in Many Countries
Apple has launched a special limited-time offer for iPhone, Apple Watch, Mac, and iPad trade-in that offers customers additional credit when trading in their only device for a new one. The offer is being run in several countries including the US, UK, Germany, Spain, Italy, South Korea, Japan, Taiwan, China, India, and France. In the UK, Apple is offering up to £50 of extra trade-in credit…
iPhone 14 Pro Models Rumored to Feature Slightly Larger Screen Sizes
Apple's upcoming iPhone 14 Pro and iPhone 14 Pro Max models will feature slightly larger screen sizes compared to the iPhone 13 Pro and iPhone 13 Pro Max, according to information shared by display industry consultant Ross Young. When measured as a standard rectangular shape, Young said the iPhone 14 Pro will have a 6.12-inch screen, compared to a 6.06-inch screen on the iPhone 13 Pro….
Kuo: iPhone 15 to Switch From Lightning to USB-C in 2023
Apple will ditch its proprietary Lightning port and switch to USB-C on all or possibly some models of the iPhone 15 lineup destined to launch in the second half of 2023, Apple analyst Ming-Chi Kuo said today. Since the iPhone 5, Apple has kept the Lightning port on the iPhone, despite much of the industry moving to USB-C. In a tweet today, Kuo said that the latest supply chain survey…
.