Samsung is in the final stage of developing a 200-megapixel camera for use on its next-generation Galaxy S23 Ultra smartphone, which is expected to be announced in early 2023, according to South Korea's ETNews.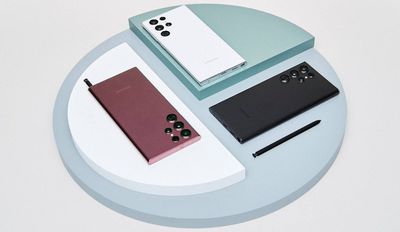 By comparison, the iPhone 13 Pro has a 12-megapixel main camera, but the iPhone 14 Pro is widely rumored to feature an upgraded 48-megapixel camera.
Like the Galaxy S22 Ultra, which has a 108-megapixel main camera, the S23 Ultra would likely use pixel binning, which merges data from multiple smaller pixels on the camera's image sensor into one "super pixel." Pixel binning is beneficial because simply increasing a smartphone camera's megapixels while maintaining the same image sensor size results in smaller pixels, which generally capture less light.
On the Galaxy S22 Ultra, the main camera shoots 12-megapixel photos by default, with a toggle available in the camera app for shooting 108-megapixel photos. The default setting is ideal for most users, as high-resolution photos can have very large file sizes.
iPhone 14 Pro models would likely utilize pixel binning as well. In a research note last year, tech analyst Ming-Chi Kuo said iPhone 14 Pro models may support both 48-megapixel and 12-megapixel output as a result. Kuo also said the 48-megapixel camera would enable iPhone 14 Pro models to support 8K video recording, up from 4K currently.
Popular Stories
Apple's Director of Machine Learning Resigns Due to Return to Office Work
Apple's director of machine learning, Ian Goodfellow, has resigned from his role a little over four years after he joined the company after previously being one of Google's top AI employees, according to The Verge's Zoë Schiffer. Goodfellow reportedly broke the news to staff in an email, saying his resignation is in part due to Apple's plan to return to in-person work, which required …
Former Apple Design Chief Jony Ive Shares His 12 Favorite Tools of the Trade
Former Apple design chief Jony Ive, who still partners with Apple on products, has revealed his 12 must-have design tools for making, marking, measuring, and carrying with him every day. The list appears in a special issue of Financial Times '"How to Spend It" magazine (paywalled), of which Ive is guest editor, and the designer uses the opportunity to put the focus on his obsession with …
Apple CarPlay Workaround for Tesla Vehicles Now Available to Download
Apple CarPlay is now available for Tesla vehicles – but only for owners willing to resort to a workaround that uses a connected Raspberry Pi. In the face of Tesla's apparent indifference to repeated calls to bring CarPlay to its automobiles, Polish developer Michał Gapiński demoed his success in bringing Apple's in-car system to his Tesla Model 3 earlier this year. As noted by Tesla North, …
Apple Releases New 4E71 Firmware for AirPods, AirPods Max and AirPods Pro
Apple today released a new 4E71 firmware update for the AirPods 2, AirPods Max, and AirPods Pro, up from the 4C165 firmware that was released back in December. Apple has also released new 4E71 firmware for the AirPods 3, up from the 4C170 firmware that was released in January. Apple does not offer information on what's included in refreshed firmware updates for the AirPods‌, so we don't…
Apple Discontinues iPod Touch
Apple today that announced it is officially discontinuing the iPod touch, an out of date accessory that has been replaced by other devices like the iPhone and the iPad. Apple says that it is eliminating the iPod touch because its capabilities are available across Apple's product lineup. The iPod touch is the last remaining device in the iPod lineup, and it has not been updated since May…
.