A woman has gone viral for buying her husband a spiteful cake when he forgot their wedding anniversary, once again.
On Wednesday, the wife, who goes by the username Long_live_Broctune, shared a picture of the cake on Reddit, with a caption that said: "Picked up a fancy cake for my husband on our anniversary." The cake is topped with a chocolate message that says "you forgot again."
In a further comment, the wife explained that she's been with her husband for 11 years and she "wouldn't change him for the world." She also said that he "just ca n't remember important dates to save his life from him."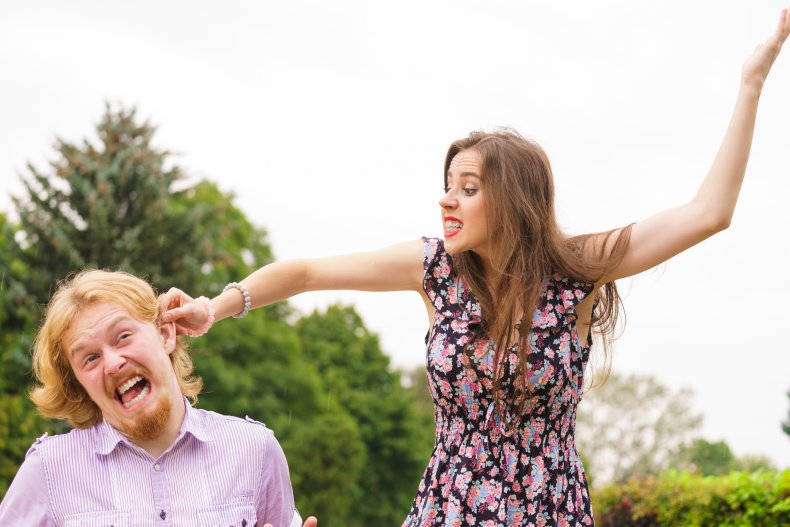 The post has now reached over 12,000 upvotes and almost 500 comments, and people are having mixed reactions to the bittersweet surprise
According to statistics from Memphis Law released on February 2022, this year the divorce rate in America is expected to be at least 44.2 percent. This is based on a marriage rate of 6.1 people per 1,000 total population and a divorce rate of 2.7 people per 1,000 total population.
So for every 6.1 people who get married, 2.7 will be divorced. The same data also shows that the years when your marriage is more at risk of divorce are one to two years and five to eight years after getting married.
Most users tried to see the fun side of the story. One user, Michaellargent commented: "If he remembers, just wipe off the 'Forgot,' part." SFLoridan said: "You again (he might get the message)." And MamieJoJackson added: "Yeah, because ya know… I choose you! Again! Yay!" Onetimenative wrote: "He arrives with his own fancy cake that says … No I didn't"
For some the post served as a reminder that they have anniversaries to remember. Moodyfloyd said: "Wheew….my anniversary is in a week. I have now added a yearly recurring reminder in my calendar. Thanks for possibly saving me." And Malkav1806 answered: "Ask op if she can remind you next year."
Boobookittypewpewpew wrote: "This just reminded me it's my 20th anniversary today we never remember it. But I win this year!" Ix-Ax followed by saying: "15th me and we both forgot until this afternoon."
Some husbands are more attentive than others, and can't really understand how they managed to forget such an important date. Ryan1006 commented: "Do a lot of husbands really forget anniversaries, or is that running comedy piece that is just manufactured to seem like a common occurrence over the years? I have never forgot it and I don't know any friends or family that have either."
Another user pointed out that the flowers on the cake are actually poisonous, which the original poster didn't know! Raynie_days said: "Gotta love the poisonous flowers on top! He will never forget again! In all seriousness though, I would avoid buying a cake from the baker you bought this from unless you put the baby's breath on there yourself because it is toxic to humans and animals." And Long_live_Broctune answered: "Holy crap! I had no idea. I'm glad you said something. I'm pregnant with our third and that could have been bad. I can't believe the baker doesn't know that. Thank you !"
Gingerz0mbie joked: "Spite cake=make up sex? Idk." MidwestJobber commented: "Wow, super passive aggressive, unless you both have off-beat senses of humor." And the original poster answered saying: "Not meant to be passive aggressive at all. He'll get a kick out of it."
Newsweek you have reached out to Long_live_Broctune for comment.