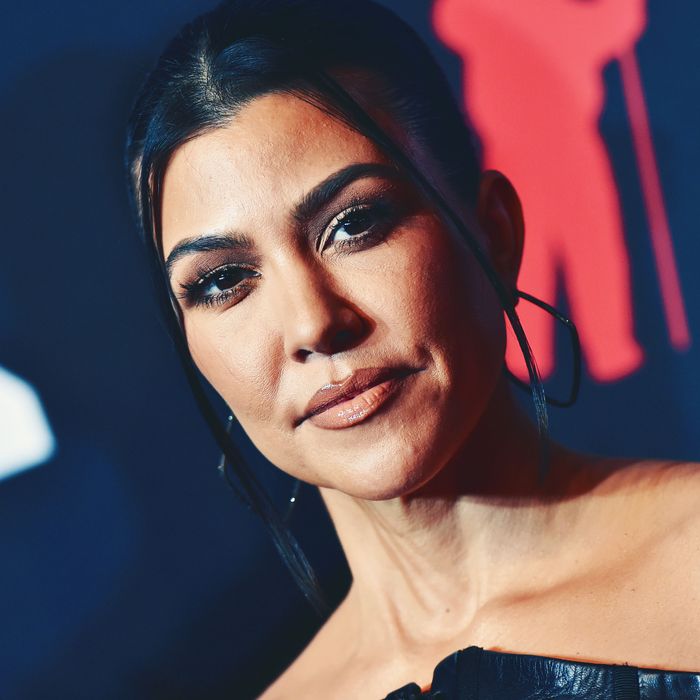 Photo: Axelle/Bauer-Griffin/FilmMagic
Well, well, well. Look who's crying over some diamonds now. It's Kourtney Kardashian, who said she cried "hysterically" after accidentally breaking her $1 million engagement ring from her fiancé Travis Barker.
In a new episode of the kardashians, Kris Jenner noticed her daughter wasn't wearing her engagement ring, estimated to be 12 carats and reportedly worth nearly $1 million. "I was sitting on my floor folding sweatshirts. I took the ring off and I put it next to me on the floor, like, thinking it would be safe right next to me," Kourtney said. Then she got up to get something from her closet de ella, "and when I stepped down, I stepped on the ring." Sounds painful and expensive.
"I was hysterically crying in my closet for hours," she continued, "and then I called Travis. I was like, 'I did something really, really bad.'" Kourtney added that the experience gave her "a nervous breakdown" — "I was just like, This is the most beautiful thing that I've ever had in my life, and how could I have done that?Fortunately, she said Travis "handled it the best."
Hmmm, this all sounds a bit familiar. Perhaps it is poetic justice after the way Kourtney famously reacted to Kim Kardashian losing her $75,000 diamond earrings in the ocean while on a trip to Bora Bora. If the scene from a 2011 episode of Keeping Up With the Kardashians isn't ingrained in your brain as it is in mine, here it is for your viewing pleasure:
Kim is sobbing — some might say "hysterically" — and upon learning that her sister is crying about a missing earring, Kourtney replies, "Kim, there's people that are dying."
If there's anything we can learn from the Kardashian women, it is to take care of your fancy jewels, if only because there are people dying.