S&P futures up 1.13%, European stocks gain 0.96%
MSCI Asia ex-Japan +1.8%, Nikkei +2.64%
Worries over inflation, tightening policy remain
Dollar hovers near 20-year highs on safe-haven demand
LONDON/SHANGHAI, May 13 (Reuters) – World stocks rose from the previous day's 18-month lows and the dollar pulled back from 20-year highs on Friday, though investors remained nervous about high inflation and the impact of rising interest rates.
Markets are becoming anxious about the possibility of recession, with the S&P getting close to a bear market on Thursday, at nearly 20% off its January all-time high.
In an interview late on Thursday, US Federal Reserve Chair Jerome Powell said the battle to control inflation would "include some pain." Powell repeated his expectation of half-percentage-point interest rate rises at each of the Fed's next two policy meetings, while pleading that "we're prepared to do more." read more
Register now for FREE unlimited access to Reuters.com
Register
The war in Ukraine has aggravated supply chain disruptions and inflationary pressures already in place after more than two years of the COVID-19 pandemic, but stocks enjoyed a bounce on Friday.
"There's an awful lot of negative sentiment out there, we're looking at a 40% chance of recession," said Patrick Spencer, vice chairman of equities at Baird Investment Bank.
"A lot of fund managers have cut their equity allocations and raised cash, though we think this is a correction rather than a bear market."
MSCI's world equity index (.MIWD00000PUS) rose 0.32% after hitting its lowest since November 2020 on Thursday, though it was heading for a 4% fall on the week, its sixth straight week of losses.
S&P futures bounced 1.13% after the S&P index dropped 0.13% overnight, with the index also eyeing a sixth straight week of declines.
European stocks (.STOXX) rallied 0.96% and Britain's FTSE 100 (.FTSE) gained 1.17%.
The US dollar eased 0.22% to 104.54 against a basket of currencies, but remained close to 20-year highs due to safe haven demand.
Russia has bristled over Finland's plan to apply for NATO membership, with Sweden potentially following suit.
Moscow called Finland's announcement hostile and threatened retaliation, including unspecified "military-technical" measures. read more
The dollar rose 0.36% to 128.76 yen , while the euro gained 0.3% to $1.0408, recovering from Thursday's five-year lows.
Cryptocurrency bitcoin also turned higher, cracking through $30,000 after the collapse of TerraUSD, a so-called stablecoin, drove it to a 16-month low of around $25,400 on Thursday. read more
"Some traders may see the sharp fall this month as an opportunity to buy the dip, but given the hugely volatile nature of the coins, the crypto house of cards could tumble further," said Susannah Streeter, senior investment and markets analyst at Hargreaves Lansdown .
The moves higher in equities were mirrored in US Treasuries, with the benchmark US 10-year yield edging up to 2.9221% from a close of 2.817% on Thursday.
The policy-sensitive 2-year yield was at 2.6006%, up from a close of 2.522%.
"Within the shape of the US Treasury curve we are not seeing any particularly fresh recession/slowdown signal, just the same consistent marked slowing earmarked for H2 2023," Alan Ruskin, macro strategist at Deutsche Bank, said in a note.
German 10-year government bond yields edged up to 0.9250%.
MSCI's broadest index of Asia-Pacific shares outside Japan (.MIAPJ0000PUS) was up almost 2% from Thursday's 22-month closing low, trimming its losses for the week to less than 3%.
Australian shares (.AXJO) gained 1.93%, while Japan's Nikkei stock index (.N225) jumped 2.64%.
In China, the blue-chip CSI300 index (.CSI300) was up 0.75% and Hong Kong's Hang Seng (.HSI) rose 2.71%, encouraged by comments from Shangahi's deputy mayor that the city may be able to start easing some tough COVID restrictions this month. read more
"We had some pretty big moves yesterday, and when you see those big moves it's only natural to get some retracement, especially since it's Friday heading into the weekend. There's not really a new narrative that's come through," said Matt Simpson, senior market analyst at City Index.
Oil prices were higher against the backdrop of a pending European Union ban on Russian oil, but were still set for their first weekly loss in three weeks, hit by concerns about inflation and China's lockdowns slowing global growth.
US crude rose 0.75% to $106.97 a barrel, and global benchmark Brent crude was up 1.05% at $108.58 per barrel.
Spot gold , which had been driven to a three-month low by the soaring dollar, was up 0.2% at $1,824.61 per ounce.
Register now for FREE unlimited access to Reuters.com
Register
Reporting by Andrew Galbraith; Editing by Simon Cameron-Moore, Lincoln Feast and Kim Coghill
Our Standards: The Thomson Reuters Trust Principles.
WASHINGTON, April 28 (Reuters) – The United States and 55 other nations on Thursday signed a political commitment to push rules for the internet that are underpinned by democratic values, at a time when the US has accused Russia of wielding internet disruptions as a part of its escalating attacks on Ukraine.
The commitment, called the "Declaration for the Future of the Internet" – the first such effort of its kind – protects human rights, promotes free flow of information, protects the privacy of users, and sets rules for a growing global digital economy among steps to counter what two Biden administration officials called a "dangerous new model" of internet policy from countries such as Russia and China.
The United States is witnessing a global trend of rising digital authoritarianism, with countries such as Russia having acted to repress freedom of expression, censor independent news sites, interfere with elections, promote disinformation, and deny their citizens other human rights, the officials said.
Register now for FREE unlimited access to Reuters.com
Register
"Look at what…Russia is doing, some of the steps China is taking, and I think we see this as a response to these kind of 'splinternet' tendencies by a number of authoritarian countries around the world," one of the officials said, referring to a characterization of the internet as splintering and dividing due to various factors, such as politics.
Since its invasion of Ukraine, Russia has launched cyberattacks, including hacking into a satellite internet provider's network at the beginning of the invasion. The administration officials said the new effort is not an attempt to address cyber warfare.
The declaration is a modified version of the White House's efforts from last year to rally a coalition of democracies around a vision for an open and free web.
The countries joining the US include Australia, Argentina, Belgium, Canada, Denmark, Georgia, Germany, Greece, Israel, Italy, Japan, Netherlands, the United Kingdom and Ukraine.
The effort will be launched virtually at the White House on Thursday by Biden's national security adviser, Jake Sullivan, at 7:30 am ET (1130 GMT).
Register now for FREE unlimited access to Reuters.com
Register
Reporting by Nandita Bose in Washington; Editing by Leslie Adler
Our Standards: The Thomson Reuters Trust Principles.
.
Register now for FREE unlimited access to Reuters.com
Register
HONG KONG, May 13 (Reuters) – Nomura (8604.T) has begun offering bitcoin over-the-counter derivatives to clients, it said Friday, the latest move by a traditional financial institution into the cryptocurrency industry, even as markets are in tumoil.
The trades, executed on the CME by crypto asset trading firm Cumberland DRW this week, were the Japanese investment bank's first digital asset trades, said Nomura's head of markets, Asia ex-Japan, Rig Karkhanis in a statement.
"Working with institutional-grade counterparties will allow us to scale into the increasing demand from our clients," he said.
Register now for FREE unlimited access to Reuters.com
Register
Many global investment banks have been looking to offer clients more crypto related services, responding they say to demand from institutional investors and private clients for access to what had been a fast growing sector.
However, crypto markets have tumbled this week as a meltdown in TerraUSD, one of the world's largest stablecoins, sent digital tokens, already swept up in a sell-off of riskier assets, into meltdown. read more
Bitcoin hit a 16-month low of around $25,400 on Thursday.
Register now for FREE unlimited access to Reuters.com
Register
Reporting by Alun John; Editing by Kim Coghill
Our Standards: The Thomson Reuters Trust Principles.
.
Register now for FREE unlimited access to Reuters.com
Register
SINGAPORE, May 13 (Reuters) – Cryptocurrencies nursed large losses on Friday, with bitcoin pinned below $30,000 and set for a record losing streak as the collapse of TerraUSD, a so-called stablecoin, rippled through markets.
Crypto assets have also been swept up in broad selling of risky investments on worries about high inflation and rising interest rates. Sentiment is particularly fragile, however, as tokens supposed to be pegged to the dollar have faltered.
Bitcoin, the largest cryptocurrency by total market value, attempted a bounce early in the Asia session and rose 2% to $29,500, something of a recovery from a 16-month low of around $25,400 reached on Thursday.
Register now for FREE unlimited access to Reuters.com
Register
It remains a long way below week-ago levels of around $40,000 and, unless there is a rebound in weekend trade, is headed for a record seventh consecutive weekly loss.
"I don't think the worst is over," said Scottie Siu, investment director of Axion Global Asset Management, a Hong Kong based firm that runs a crypto index fund.
"I think there is more downside in the coming days. I think what we need to see is the open interest collapse a lot more, so the speculators are really out of it, and that's when I think the market will stabilize."
TerraUSD (USDT) broke its 1:1 peg to the dollar this week, as its mechanism for remaining stable, using another digital token, failed under selling pressure. It last traded below 10 cents. read more
Tether, the biggest stablecoin and one whose developers say is backed by dollar assets, has also come under pressure and fell to 95 cents on Thursday, according to CoinMarketCap data. read more
UNSTABLE
Selling has roughly halved the global market value of cryptocurrencies since November, but the drawdown has turned to panic in recent sessions with the squeeze on stablecoins.
These are tokens pegged to the value of traditional assets, often the US dollar, and are the main medium for moving money between cryptocurrencies or to convert balances to fiat cash.
"Over half of all bitcoin and ether traded on exchanges are versus a stablecoin, with USDT or Tether taking the largest share," analysts at Morgan Stanley said in a research note.
"For these types of stablecoins, the market needs to trust that the issuer holds sufficient liquid assets they would be able to sell in times of market stress."
Tether has recovered to parity on the dollar and its operating company says it has the necessary assets in Treasuries, cash, corporate bonds and other money-market products.
But it is likely to face further tests if traders keep selling, and analysts are concerned that stress could spill over into money markets if pressure forces more and more liquidation.
Ether , the second-largest cryptocurrency by market capitalization, steadied near $2,000 on Friday after a drop as low as $1,700 on Thursday. Bitcoin and ether are about 60% below record peaks reached in November.
Crypto-related stocks have also copped a pounding, with shares in broker Coinbase (COIN.O) steadying overnight but still down by half in little more than a week.
In Asia, Hong Kong-listed Huobi Technology (1611.HK) and BC Technology Group (0863.HK), which operate trading platforms and other crypto services, eyed weekly drops of more than 15%.
Amid the turmoil, Nomura (8604.T) on Friday said it had begun offering bitcoin derivatives to clients, the latest move by a traditional financial institution into the asset class.
Register now for FREE unlimited access to Reuters.com
Register
Reporting by Tom Westbrook and Alun John.
Our Standards: The Thomson Reuters Trust Principles.
.
Register now for FREE unlimited access to Reuters.com
Register
NEW DELHI, May 12 (Reuters) – Chinese smartphone giant Xiaomi Corp (1810.HK) faces legal headaches in India as a federal financial crime-fighting agency and tax authorities investigate its business practices.
Xiaomi denies wrongdoing. But it recently hit the headlines with accusations that its executives faced intimidation from Indian enforcement officials, drawing public rebuttals from the agency and words of support from China.
Here are details of the tussles in one of Xiaomi's key markets:
Register now for FREE unlimited access to Reuters.com
Register
WHAT'S THE ROYALTY CASE ABOUT?
India's financial crime-fighting agency, the Enforcement Directorate, has been investigating Xiaomi since February. On April 30, the agency said the smartphone maker had illegally transferred funds abroad to three entities, including one from a Xiaomi group entity, "in the guise of royalty" payments.
It seized $725 million from the local bank accounts of Xiaomi, though an Indian court has put that decision on hold following a legal challenge by Xiaomi. read more
The Chinese company says its royalty payments were all legitimate and were for the "in-licensed technologies and IPs" used in its Indian products.
In its court filings, Xiaomi says that such payments were made to firms including US chip giant Qualcomm Inc (QCOM.O) and that relevant disclosures had been made to Indian authorities. read more
"PHYSICAL VIOLENCE" THREATS
Xiaomi's Indian court filing revealed the company had alleged its top executives faced "physical violence" threats and coercion by the Enforcement Directorate.
The company alleged Indian agents multiple times questioned Xiaomi's global vice president and former India head, Manu Kumar Jain, as well as current Chief Financial Officer Sameer BS Rao, and warned them of "dire consequences" if they did not submit statements as desired by the agency. read more
The Reuters report revealing those accusations sparked a response from the federal agency, which called Xiaomi's allegations "untrue and baseless" and said executives had been deposed "voluntarily in the most conductive environment".
China's foreign ministry in Beijing also reacted, asking New Delhi to carry out investigations into compliance with laws and to ensure Chinese companies were not discriminated against. read more
OTHER TAX PROBES, CHINA SCRUTINE
Chinese companies have struggled to do business in India since 2020, when a border clash occurred between the two nations. India has cited security concerns in banning more than 300 Chinese apps since then, including popular ones, such as TikTok, and tightened norms for Chinese companies investing in India.
Xiaomi's India offices and manufacturing units were raided in December in a separate ongoing investigation over alleged income tax evasion.
And in another case in January, India's Revenue Intelligence wing asked Xiaomi to pay $84.5 million for allegedly evading some import taxes.
Xiaomi has expressed concerns in its latest court filing against the Enforcement Directorate, saying the agency's action "creates an atmosphere of distrust and the image of the country suffers in international circles."
INDIA KEY MARKET FOR XIAOMI
Xiaomi also sells other tech gadgets, including smart watches and televisions, and has a lot riding on the Indian market.
The company is best known, however, for its affordable smartphone price range that has helped it grow rapidly in India. In March, the company told analysts it retained "the #1 position in India for 17 consecutive quarters."
Its market share has quadrupled from just 6% in 2016 to 24% last year, making it the Indian market leader, according to Counterpoint Research.
The company has 1,500 employees in India and provides a source of income for at least 52,000 workers employed by its third-party manufacturers, it said in its court filing.
Register now for FREE unlimited access to Reuters.com
Register
Reporting by Munsif Vengattil and Aditya Kalra in New Delhi; Editing by Kim Coghill
Our Standards: The Thomson Reuters Trust Principles.
.
Register now for FREE unlimited access to Reuters.com
Register
World stocks drop to 1-1/2 yr low, down almost 20% YTD
Europe opens down 2% US equity futures struggle
Dollar hits 2yr highs on AUD, NZD
Bitcoin tumbling, hits new 16-month low
Copper buckles to lowest since October
LONDON, May 12 (Reuters) – Shares sank to a 1-1/2 year low on Thursday and the dollar hit its highest in two decades, as fears grew that fast-rising inflation will drive a sharp rise in interest rates that brings the global economy to a standstill.
Those nerves and the still-escalating war in Ukraine took Europe's main markets down more than 2% in early trade and left MSCI's top index of world shares (.MIWD00000PUS) at its lowest since late 2020 and down nearly 20% for the year.
The global growth-sensitive Australian and New Zealand dollars fell about 0.8% to almost two-year lows. The Chinese yuan slid to a 19-month trough while the dollar powered to its highest level since late 2002.
Register now for FREE unlimited access to Reuters.com
Register
Nearly all the main volatility gauges were signaling danger. Bitcoin was caught in the fire-sale of risky crypto assets as it fell another 8% to $26,570, having been near $40,000 just a week ago and almost $70,000 just last November.
"We have had big moves," UBS's UK Chief Investment Officer Caroline Simmons, said referring as well to bond markets and economic expectations. "And when the market falls it does tend to fall quite fast."
Data on Wednesday had shown US inflation running persistently hot. Headline consumer prices rose 8.3% in April year-on-year, fractionally slower than the 8.5% pace of March, but still above economists' forecasts for 8.1%. read more
US markets had whipsawed after the news, closing sharply lower, and futures prices were pointing to another round of 0.2%-0.7% falls for the S&P 500, Nasdaq and Dow Jones Industrial later.
"We're now very much embedded with at least two further (US) hikes of 50 basis points on the agenda," said Damian Rooney, director of institutional sales at Argonaut in Perth.
"I think we were probably delusional six months ago with the rise of US equities on hopes and prayers and the madness of the meme stocks," he added.
MSCI's broadest index of Asia-Pacific shares outside Japan (.MIAPJ0000PUS) fell 2.3% to a 22-month low overnight. Japan's Nikkei (.N225) fell 1.8%.
Treasuries were bid in both Europe and Asia, especially at the long end, flattening the yield curve as investors braced for near-term hikes to hurt long-run growth – an outcome that would most likely slow or even reverse rate hikes.
The benchmark 10-year Treasury yield had dropped in the US and fell a further 7 bps to 2.8569% on Thursday. The gap between the highly rate-rise sensitive two-year yields and 10-year ones narrowed 4.2 bps .
In Europe, Germany's 10-year yield, the benchmark for the bloc, fell as much as 12 bps to 0.875%, its lowest in nearly two weeks.
"I think a lot of it is catch up from what happened yesterday, and also there's still a lot of negative sentiment in the US Treasury curve," said Lyn Graham-Taylor, senior rates strategist at Rabobank.
SELL IN MAY
The rates outlook is driving up the US dollar and taking the heaviest toll on riskier assets that shot up through two years of stimulus and low-rate lending.
The Nasdaq (.IXIC) is down nearly 8% in May so far and more than 25% this year. Hong Kong's Hang Seng Tech index (.HSTECH) slid 1.5% on Thursday and is off more than 30% this year.
Cryptocurrency markets are also melting down, with the collapse of the so-called TerraUSD stablecoin highlighting the turmoil as well as the selling in bitcoin and next-biggest-crypto, ether. read more
A weakening growth picture outside the United States is battering investor confidence, too, as war in Ukraine threatens an energy crisis in Europe and lengthening COVID-19 lockdowns in China throw another spanner into supply chain chaos.
Nomura estimated this week that 41 Chinese cities are in full or partial lockdowns, making up 30% of the country's GDP.
Heavyweight property developer Sunac (1918.HK) said it missed a bond interest payment and will miss more as China's real estate sector remains in the grip of a credit crunch. read more
The yuan fell to a 19-month low of 6.7631 and has dropped almost 6% in under a month.
The Australian dollar fell 0.8% to a near two-year low of $0.6879. The kiwi slid by a similar margin to $0.6240, though the euro and yen held steady to keep the dollar index just shy of a two-decade peak.
Sterling was at a two-year low of just under $1.22 as well as economic data there caused worries and concerns grew that Britain's Brexit deal with the EU was in danger of unraveling again due to the same old problem of Northern Ireland's border. read more
In commodity trade, oil wound back a bit of Wednesday's surge on growth worries.
Brent crude futures fell 2.3% to $104.93 a barrel, while highly growth-sensitive metals copper and tin slumped over 3.5% and 9% respectively. That marked copper's lowest level since October.
Register now for FREE unlimited access to Reuters.com
Register
Additional reporting by Tom Westbrook in Singapore; Editing by Kim Coghill
Our Standards: The Thomson Reuters Trust Principles.
.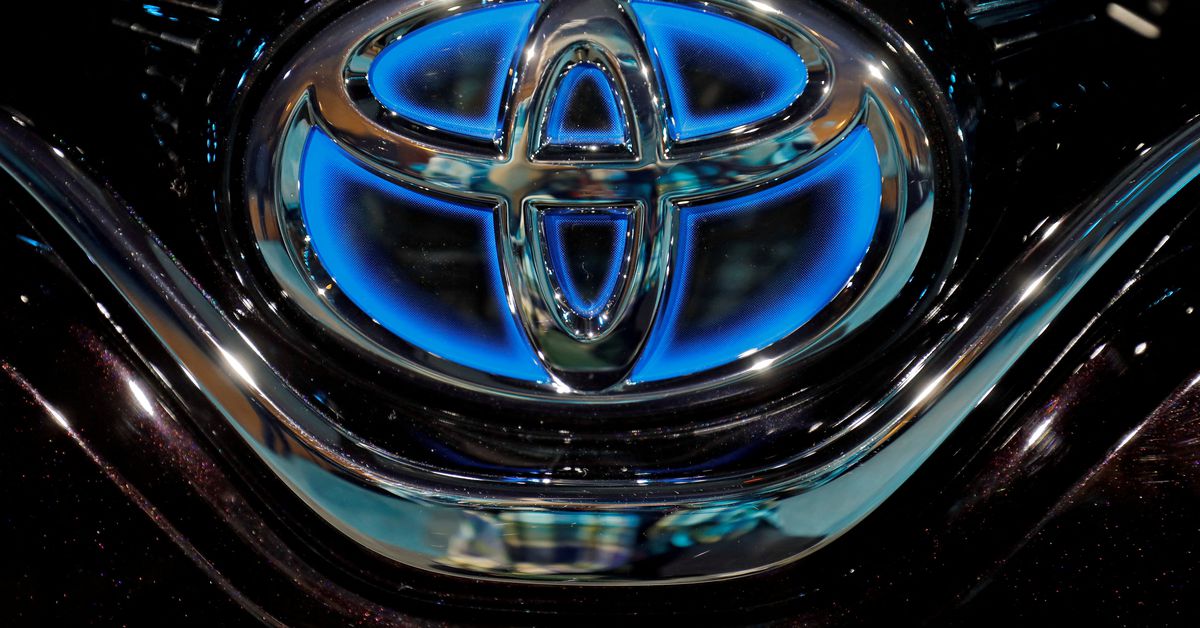 Register now for FREE unlimited access to Reuters.com
Register
Move is part of Toyota's 2050 carbon-neutrality goals
NEW DELHI, May 11 (Reuters) – Toyota Motor Corp (7203.T) plans to make India a manufacturing hub for electric vehicle parts to meet demand there as well as for export to Japan and some ASEAN countries, a senior company executive told Reuters .
The carmaker plans to start by producing e-drives or electric powertrain parts used by different electric vehicle types, including battery EVs, plug-in hybrids and other hybrid models, Vikram Gulati, executive vice president at Toyota Kirloskar Motor said.
"The aspiration is to make India the manufacturing hub for cleaner technologies. This is about creating the building blocks," Gulati told Reuters.
Register now for FREE unlimited access to Reuters.com
Register
He did not name the countries in ASEAN, or the Association of Southeast Asian Nations, that Toyota would export to.
The move follows the company's recent announcement that it will invest 48 billion rupees ($621 million) in India to localize the supply chain for EVs, and is also part of its broader 2050 carbon-neutrality goals.
It also comes as Prime Minister Narendra Modi's government is offering companies billions of dollars in incentives to build EVs and their parts locally.
The bulk of the investment in India will be made by Toyota's local unit, Toyota Kirloskar Motor and Toyota Kirloskar Auto Parts (TKAP), a joint venture of Toyota Motor Corp, Aisin Seiki Co (7259.T) and Kirloskar Systems, the company said on Saturday.
The world's biggest carmaker said in December it plans to invest $70 billion to electrify its automobiles by 2030, including developing battery EVs as it plays catch-up with global automakers investing billions of dollars in the shift to cleaner vehicles. read more
In India, however, Toyota is more focused on launching its hybrid models first, which it believes are better suited to the country's aim of reducing dependence on fossil fuels and carbon emissions.
Gulati said this would also address varying consumer needs and enable "a faster transition towards an electrified future".
Building out the supply chain early will help Toyota become competitive in terms of volume and price in India, Gulati said.
Toyota expects this to enable a "faster and smoother" shift for the Indian auto industry to electric-vehicle technology, I added.
($1 = 77.2475 Indian rupees)
Register now for FREE unlimited access to Reuters.com
Register
Reporting by Aditi Shah; Editing by Bernadette Baum
Our Standards: The Thomson Reuters Trust Principles.
.
May 11 (Reuters) – Alphabet Inc's (GOOGL.O) Google on Wednesday previewed augmented-reality glasses that display translations of conversations in real time, and it laid out additional plans to bridge the real world and its digital universe of search, Maps and other services using artificial intelligence.
Google also teased a tablet to be launched in 2023 and a smartwatch that will go on sale late this year, as it unveils a strategy to offer a group of products comparable to rival Apple Inc (AAPL.O) that could provide rich rewards from Google's ad sales.
At its annual Google I/O developer conference, the company showed a video of its glasses prototype displaying translations for conversations involving English, Mandarin, Spanish and American Sign Language.
Register now for FREE unlimited access to Reuters.com
Register
Eddie Chung, a product director at Google, called them "subtitles for the world."
"What we're working on is technology that enables us to break down language barriers, taking years of research in Google Translate and bringing that to glasses," he said.
Google earlier demonstrated a feature that would eventually let users take video of shelves of wine bottles at a store and ask the search app to automatically identify options from Black-owned wineries.
"This is like having a supercharged Ctrl+F for the world around you," said Prabhakar Raghavan, a Google senior vice president, referring to the keyboard shortcut for finding something in a document. "You can search your whole world, asking questions any way and anywhere."
Similarly, users later this year will be able to snap a photo of a product and locate nearby stores where it is available, Raghavan said.
Later this year, Maps will launch an immersive view for some big cities that fuses Street View and aerial images "to create a rich, digital model of the world," Google said.
In other announcements, a relaunched Google Wallet app will support virtually storing driver licenses in some areas of the United States later this year, mirroring a feature Apple debuted for Arizona on its iPhones in March.
Alphabet shares were up about 0.5% following the conference, which was again held virtually due to COVID-19 concerns.
NEW HARDWARE
The tablet reverses Google's decision three years ago to abandon making its own following poor sales, while the round-faced Pixel smartwatch could undercut Google's Fitbit devices.
Google derives most of its revenue from ads, a business that has emerged for years as the pandemic and smartphones lead to people spending more time online.
But devices could matter more for Google over the long run. Ads displayed on its own devices deliver a higher profit margin because sales do not have to be split with hardware partners such as Apple that help distribute Google services on their gadgets.
The tablet, which will carry a premium price and be on the larger end, follows user interest, Rick Osterloh, Google senior vice president for devices and services, told reporters, noting that it was unusual to tease a product a year ahead.
"Users are thinking about an ecosystem," Osterloh said. "We are newer to this space, and we wanted to give people more of a view of where we are headed."
Google's previous venture in tablets led to under 500,000 units sold, according to market researcher IDC.
Osterloh said the Pixel Watch, which will not be compatible with Apple's iPhones, will attract different users than Fitbit, which is associated with health and fitness. Google acquired Fitbit in January 2021 for $2.1 billion.
Google also said that its Pixel 6a smartphone, which carries less robust cameras, memory and display than its more expensive Pixel 6, would go on sale July 21 starting at $449.
Google's smartphones continue to command under 1% of the global market, IDC analysts said, and the more affordable "A" series accounts for roughly half of it shipments.
Osterloh also said Google will soon open its second retail store, in the New York City borough of Brooklyn, following a larger one in Manhattan that debuted last year.
Register now for FREE unlimited access to Reuters.com
Register
Reporting by Paresh Dave in Oakland, Calif. and Yuvraj Malik in Bengaluru Editing by Paul Simao, Matthew Lewis, Nick Zieminski and Bernard Orr
Our Standards: The Thomson Reuters Trust Principles.
.
MILAN, May 11 (Reuters) – World shares turned lower on Wednesday and bond yields shot up after US data showed inflation there slowed down less than expected last month, cementing expectations of aggressive rate hikes by the Federal Reserve.
US futures turned negative after data showed US annual consumer price growth slowed to 8.3% in April from 8.5% in March, suggesting that inflation has probably peaked. The number, however, was above the 8.1% analyst had expected.
Paolo Zanghieri, senior economist at Generali Investments, said the data confirmed the view that the return of inflation to more tolerable values ​​will take time.
Register now for FREE unlimited access to Reuters.com
Register
"Overall today's data add to the case of the strong front-loading called for by (|Fed Chair Jerome) Powell in the last meeting, who also suggested the possibility of two more 50bps rise in June and July," Zanghieri said. "However, this will keep concern about the possibility of a recession high, and ultimately weakening growth may lead the Fed to temper it tightening after the summer."
MSCI's benchmark for global stocks (.MIWD00000PUS) was flat by 1247 GMT, having earlier risen as much as 0.3%. On Tuesday, the index fell to its lowest level since November 2020 on fears Fed tightening could significantly slow down the global economy.
US equity futures turned sharply negative, with the Nasdaq and S&P 500 e-minis down 1% and 0.6% respectively. The pan-European STOXX 600 (.STOXX) equity benchmark index also trimmed gains, and was last up 0.2%.
Money markets ramped up bets of Fed rate hikes by end-2022 to 208 basis points after the US inflation numbers, compared to around 195 bps before.
Earlier in Asia, equities squeezed higher from near two-year lows. Chinese blue chips (.CSI300) rose 1.4% after Shanghai officials said half the city had achieved "zero COVID" status, and after US President Joe Biden said he was considering eliminating Trump era tariffs on China.
Chinese data released on Wednesday, however, showed consumer prices rose 2.1% from a year earlier, more than expected and at the fastest pace in five months, partly due to food prices.
YIELDS SHOOT UP
After falling to their lowest levels in almost a week earlier on Wednesday, benchmark 10-year Treasury yields turned positive after the inflation data, marching back towards the three-year high of 3.203% hit on Monday.
The 10-year yield was last up 6 basis points on the day to 3.0502%, while the 2-year yield , which often reflects the Fed rate outlook, jumped 11 bps to 2.717%.
Euro area government bond yields also sold off following the US data, sending German 10-year yields up 8 bps to 1.084% .
Bets on aggressive Fed tightening have also supported the dollar this year.
The dollar index, which measures its performance against six main peers, reversed earlier weakness and was last up 0.1% to 104.04, closer to the two-decade high of 104.19 reached at the start of the week.
The Fed last week raised interest rates by 50 basis points and Chair Jerome Powell said two more such hikes were likely at the upcoming policy meetings.
There has also been speculation in markets the US central bank will need to move by 75 basis points at one meeting and currently money markets are pricing over 190 basis points of combined rate hikes per year.
"The current problem is that the market is convinced that the Fed is determined to fight inflation and therefore willing to tolerate market volatility and some demand destruction more than in the past. Personally, I'm less convinced of this determination," said Giuseppe Sersale , fund manager at Anthilia.
Morgan Stanley forecasts 2022 global economic growth to be less than half of last year's at 2.9%, down from a previous estimate of 3.2%. read more The US bank also cut its year-end target for the S&P 500 by 11% to 3,900 points, while raising its US 10-year yield forecast by 55 bps to 3.15%.
Oil bounced back, buoyed by supply concerns as the European Union works on gaining support for a ban on Russian oil.
Brent rose 2.6% to $105.12 a barrel and US crude rose 3% to $102.77.
Spot gold dipped 0.1% to $1,836.2 an ounce.
Register now for FREE unlimited access to Reuters.com
Register
Reporting by Danilo Masoni in Milan, Sujata Rao in London and Alun John in Hong Kong, Editing by William Maclean and Tomasz Janowski
Our Standards: The Thomson Reuters Trust Principles.
.
Register now for FREE unlimited access to Reuters.com
Register
CHICAGO, May 10 (Reuters) – Why are food prices rising?
Global food prices started to rise in mid-2020 when businesses shut down due to the COVID-19 pandemic, straining supply chains. Farmers dumped out milk and let fruits and vegetables rot due to a lack of available truckers to transport goods to supermarkets, where prices spiked as consumers stockpiled food. A shortage of migrant labor as lockdowns restricted movement impacted crops worldwide.
Since then, there have been problems with key crops in many parts of the world. Brazil, the world's top soybean exporter, suffered from severe drought in 2021. China's wheat crop has been among the worst ever this year. Concerns about food security, heightened during the pandemic, have led some countries to hoard staples to ward off future shortages, limiting supplies on the global market.
Register now for FREE unlimited access to Reuters.com
Register
Russia's invasion of Ukraine in late February dramatically worsened the outlook for food prices. The UN food agency said prices hit an all-time record in February and again in March. Russia and Ukraine account for nearly a third of global wheat and barley, and two-thirds of the world's export of sunflower oil used for cooking. Ukraine is the world's No. 4 corn exporter. The conflict has damaged Ukraine's ports and agricultural infrastructure and that is likely to limit the country's agricultural production for years.
Some buyers are avoiding buying grains from Russia due to Western sanctions.
Indonesia banned most exports of palm oil in late April to ensure domestic supplies of cooking oil, cutting off supplies from the world's largest producer of the edible oil used in everything from cakes to margarine. read more
What food prices are rising the most?
Throughout the pandemic, high vegetable oil prices have helped drive up broader food costs. Cereal prices also hit a record in March, a result of limited shipments of corn and wheat during the Ukraine war. read more
Dairy and meat prices reached a record in April, according to the UN food agency, reflecting continually increasing global demand for protein and high prices for animal feed – mainly corn and soybeans. In addition, bird flu in Europe and North America impacted egg and poultry prices. read more
In US inflation data for March, the index for meats, poultry, fish and eggs increased 14% from a year ago while beef rose 16%.
When will food prices come down?
It is hard to say, given that agricultural production depends on hard-to-predict factors like weather. UN Secretary-General Antonio Guterres said in early May the problem of global food security could not be solved without restoring Ukrainian agricultural production and Russian food and fertilizer output to the world market. read more
The World Bank forecasts wheat prices could rise more than 40% in 2022. The Bank expects agricultural prices to fall in 2023 versus 2022. But that depends on increased crop supplies from Argentina, Brazil and the United States – by no means guaranteed.
The sharp rise in fertilizer prices, as avoid buying from major producers Russia and its ally Belarus, could discourage countries farmers from applying adequate crop nutrients to their fields. That could bring down yields and result in lower production, prolonging the crisis. As the climate warms, extreme weather is becoming more common – posing another risk to crop production. read more
Who is most affected?
Food prices in March accounted for the greatest share of US inflation since 1981, according to Fitch Ratings, while shop prices in Britain emerged in April at the fastest rate in more than a decade. But the people most impacted by higher food prices live in the developing world, where a larger percentage of incomes is spent on food.
The Global Network Against Food Crises, set up by the United Nations and the European Union, said in an annual report that Russia's invasion of Ukraine poses serious risks to global food security, especially in countries facing a food crisis including Afghanistan, Ethiopia, Haiti, Somalia, South Sudan, Syria and Yemen. read more
Register now for FREE unlimited access to Reuters.com
Register
Reporting by Caroline Stauffer in Chicago Editing by Matthew Lewis
Our Standards: The Thomson Reuters Trust Principles.
.